[Undirected Blog Five!]
Time travel time! Lets go way back to the early 1800s. In this time period, the Romantic painters loved nature. A lot. Many of the landscape paintings of this time, part of a movement called--brace yourself--Romantic Landscape Painting (shock!), tried to emphasize the beautiful power that nature holds. One painter from this movement was a Joseph Mallord William Turner--a man accepted into the Royal Academy of Art at the age of 14. He placed humans into his landscapes, showing the awesome power of nature, and how no matter how hard we try, humans will always be at the mercy of the weather. Take Turner's
Hannibal Crossing the Alps
.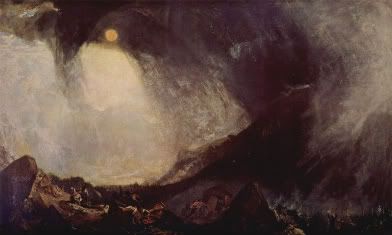 Here he places an army in the midst of a snowstorm, with the figures so small that you probably can't even see them in this picture. They're at the bottom, if that helps any.
Turner's painting seems to emphasize a need for humans to respect nature, and to be aware that the forces of nature can be much more destructive than expected. Remember hurricane Katrina? No matter how hard you try to build a town that will survive storms and flooding, you'll fail because your town is
below sea level
and the hurricane just so happens to have survived the sandbars. This disaster couldn't have been stopped, as I hear its pretty much impossible to destroy a hurricane, though it could have become less of a mess if the city of New Orleans wasn't built in that place at all. What this modern world needs now is people who respect fearsome nature, and understand that we cannot outsmart nature. Perhaps this current 'green' movement is the beginnings of a new Romantic Landscape Painting mentality in our populace. Minus the paintings of storms killing soldiers, of course. That's just Unpatriotic.
-----------------------

I almost went on a rant tonight about how stupid it is to build a city below sea level in hurricane territory! Good thing I avoided that. I think this week's Connection to Today segment was pretty strong! So I'm just going to go celebrate that achievement. See you next week!